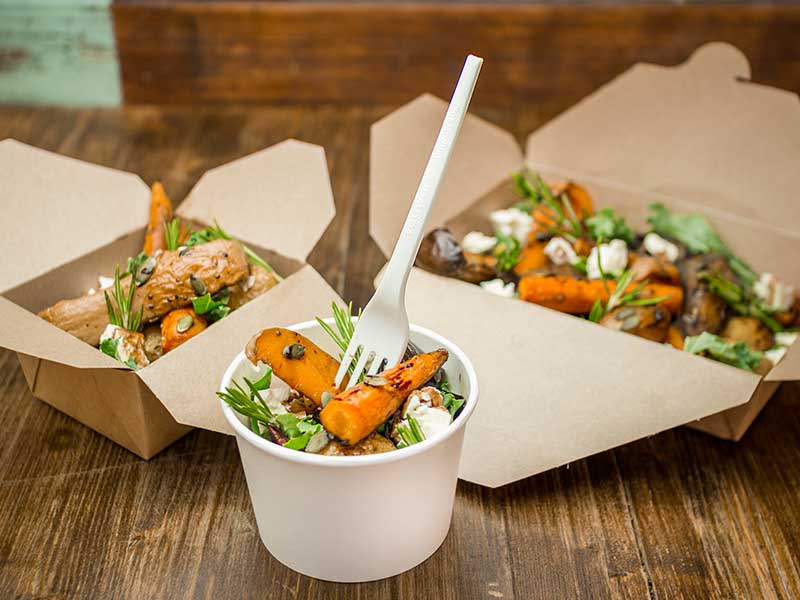 Ilfracombe Foodservice has selected Vegware to provide plastic-free materials for all its disposable food packaging items. The company made this decision to consciously ditch plastic packaging and move to Vegware eco catering disposables to meet demands for sustainable solutions for foodservice packaging and to look after the environment.
Sustainability is central to Ilfracombe Foodservice due to the depot's location by the coast. The company recognises that more needs to be done to cut the amount of plastic that is put into the oceans and coastlines; this is a conscious step in the right direction.
Kelly Williams, sales & marketing director at Ilfracombe Foodservice, said: "Recent headlines have exposed how environmentally unfriendly lots of food packaging is, and we felt it was our obligation to choose packaging that's free from plastic. We are incredibly proud to be working with a company like Vegware whose values are so closely aligned with our own."
Made from plants, not plastic
Vegware uses a wide range of eco materials to manufacture everything from coffee cups and cutlery to takeaway boxes and sandwich wedges. Its coffee cups, are lined with PLA, a plant-based bioplastic, instead of plastic. Takeaway boxes and tableware are made from bagasse, an eco-alternative to polystyrene that's made from sugarcane fibers. All products are commercially compostable with food waste where facilities exist.
"Following this much-needed and bold move, we are confident our customers will support us with this most worthwhile initiative. Customers that are already using the sustainable products love how great their food looks in the Vegware packaging and are also proud to be part of a sustainable economy," said Adam Fitzgerald, buyer at Ilfracombe Foodservice.
By switching to Vegware, Ilfracombe Foodservice is pioneering the use of compostable packaging in the south-west of England. Even if access to a composter is limited, this packaging will break down in landfill in less than one year.
For details visit iwgltd.co.uk.