As well as showcasing the very best of North Devon businesses, the Business Action Awards aim to encourage businesses in the area to enter more business awards. There are many local, regional, national and international awards schemes as well as schemes for specific industries.
If you've never entered your business for an award or feel you could achieve better results with your awards entries, multi-award winner Denise O'Leary's new book, 'WINNER – How to Win Business Awards' can help. When asked by Business Action what advice she would give to businesses wanting to enter awards, Denise very generously gave us her top tips. Read them below.
Denise O'Leary's top tips for winning business awards
Always wanted to WIN a business award? Don't know where to start or what you should include in your entry? Winning an award can also boost team morale, drive competitive advantage and secure trust in your business. Here's how to consistently win business awards for your business and leverage the great PR opportunities they present.
What do you want to be known for?
"When trying to decide which award or category of an award to enter, you need to consider the relevance that the award can have to your business. If you have limited resources then target the one you really want, find out the structure and then the entry can be tweaked for any additional submissions."
Promote your USP: Unique Selling Point
"Every company will be different – you have got to determine what your company USP is – this is the Unique Selling Point that makes you stand out and makes your business memorable. This is the content you need to focus on to make your entry impactful."
Evidence is essential – get client testimonials
"Award entries give you the opportunity to document your achievements, but if you haven't done yourself justice on that entry form, they can't give you the credit. If someone outside the business has been prepared to say how great you are, it is far more powerful."
Tailor your entries for ultimate success
"Each award is likely to be judged individually, so we would always recommend that you tackle each award independently. The entry criteria needs to be evaluated and matched against your individual and company attributes and then displayed on the entry form."
Visualise that win
"Understand why you want to win. When you know this, you can target the awards to enter. Build an award calendar – this will make it easier for time planning."
Be honest
"Always be honest with your entry. Don't lie, make up figures or avoid mentioning something that the general business community will know about you. The judges are usually experienced business owners, investors and experts in their fields. Being sincere and explaining your challenges is very powerful as it shows you are constantly learning."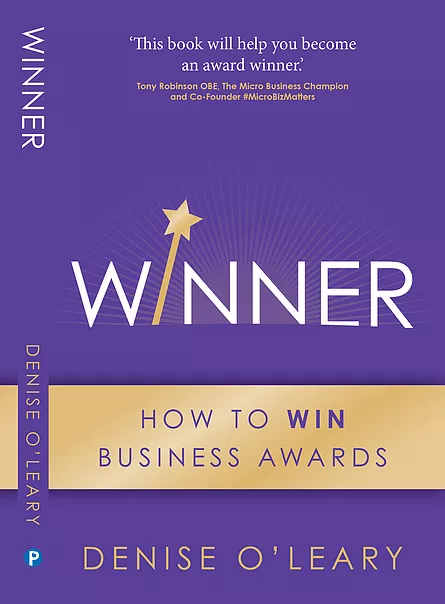 Denise's tips are based on the book 'WINNER – How to Win Business Awards' launched on Amazon in January 2020 and available to order from winnerhowtowin.com
Denise runs Purpol Marketing and provides bespoke consultancy on marketing strategies, bid writing and awards entry. Contact her at denise@purpolmarketing.co.uk or call 01249 481411.